You're Invited: Community Challenge & 49th Annual Benefit Walk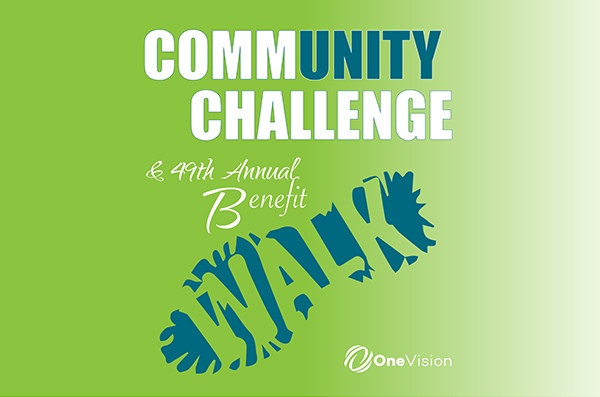 One Vision's 49th Annual Benefit Walk
Sept. 15, 2018 • 9 AM
City Park, Clear Lake
Create your fundraising page online at www.ovbenefitwalk.org

Join us at our signature fundraiser on Sept. 15 to support One Vision and help us continue to connect people with purpose.

Events like the 49th annual Benefit Walk provide a way to not only bring our community together, but also helps raise awareness and generate crucial resources to support the services we provide. This year, our goal is to raise $90,000. If we meet this goal, it will enable our organization support 50 people in their search for meaningful jobs. That's $1,900 per person for six months of job discovery, training, coaching & more.
And you can help.
Gather a team of family, friends, or co-workers to walk around City Park in Clear Lake. The walk will begin promptly at 9 a.m. with check-in starting at 8:30 a.m. In case of inclement weather, the event will be held at The Hub, 500 Main Ave., Clear Lake.
But before the Walk, please help us meet our goal of raising $90,000. CLICK HERE to find out how you can be involved in fundraising and help further our vision of connecting people with purpose.
Learn more at www.ovbenefitwalk.org
NEW THIS YEAR!
One Vision's Inaugural Community Challenge
Human Foosball Tournament
Sept. 15, 2018 • 9:30 AM
City Park, Clear Lake
Do you have what it takes to rise to the Challenge? 
Join us for our inaugural human foosball tournament, which will bring together teams from throughout our area to encourage community building while simultaenouslysupporting our vision and services.
Pool play tournament with a single elimination championship round
$600 per 6-player team. Up to 10 teams.
Fundraise individually or as a team.
Maximum 8 people per team. Must raise $100 per additional team member.
Registration / fundraising deadline Sept. 1.
CLICK HERE to learn more about the Community Challenge and its requirements! Remember, before you register for the challenge, start fundraising!
Prior to the Challenge registration deadline of Sept. 1, team members should set up a team fundraising page right here. Together as a team, set a fundraising goal, then set up your individual fundraising pages. Team members are encouraged to raise a $100 per person, but each team as a whole is required to raise a minimum $600 to participate (that's $100 per person to participate).
If you are a business forming a team, businesses may also choose to bypass peer-to-peer fundraising and make an outright $600 donation in order to participate.
Once the minimum $600 fundraising goal is reached please complete your team's registration form, which can be downloaded here or picked up at 217 7th Ave. N, Clear Lake. Once complete, return the form to the same address. 
Inaugural Community Crawl
After the walk, stick around and take in the best of downtown Clear Lake for our inaugural Community Crawl!
Collect your card at registration and, after the walk, visit downtown businesses listed on the card. Collect stamps on your card from each business and — once you've visited each one — return to the park to watch the Challenge championship and collect fun prizes for participating! No purchase is necessary to participate.
As always, more information on all our events scheduled Sept. 15 can be found at www.ovbenefitwalk.org. We hope to see you next month!