Feature Story
New Job Offers Fresh Perspective For David Gernetzke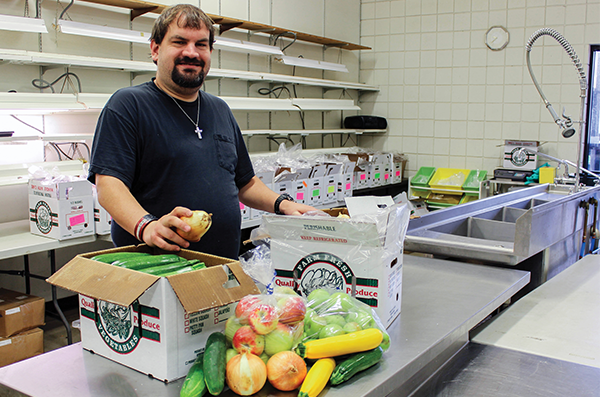 While many are familiar with what it takes to grow fresh fruits and vegetables, or how it eventually ends up on grocery store shelves or the plates of local restaurants, many don't see an important step that happens in between farm to table. 
At One Vision's vegetable aggregation center, David Gernetzke is one of a group of individuals who ensures that important step happens.  
What is aggregation? It is the process of collecting local produce, washing it according to food safety standards, and packaging for delivery to retailers. With the help of a USDA local food promotion grant, food grower and producer association North Iowa Fresh partnered with OV in 2016 to launch the aggregation facility on the Clear Lake campus. 
David works alongside Cindy Richardson, One Vision employee and aggregation coordinator, as well as Andrea Evelsizer, North Iowa Fresh broker. Prior to joining the aggregation team, David worked in the wood and recycling shop at One Vision's Clear Lake campus. As a part of the aggregation team, he is now an employee of North Iowa Fresh. 
David works two days per week, receiving, washing and sanitizing produce, and properly storing goods until distribution. On Wednesdays, he delivers products to restaurants and grocers. He also delivers Bounty Boxes, North Iowa Fresh's seasonal produce subscription boxes. 
"I have seen David thriving," fellow team member Cindy Richardson said. "It is just so much fun to watch him form connections and relationships that he would not have formed otherwise."  
Cindy also shared that when David was on vacation for a week, she had to fill in and people were constantly asking where he is. "It is just so great to see him out there on his own — troubleshooting, communicating," she said.  
When asked about his job, David replied that he loves it.  "There are lots of interesting people to meet," he said. "It's awesome to be part of the (local food chain)."
The information in this article originally appeared in North Iowa Fresh's newsletter sent to Bounty Box subscribers. Thank you, NIF, for letting us share David's story!