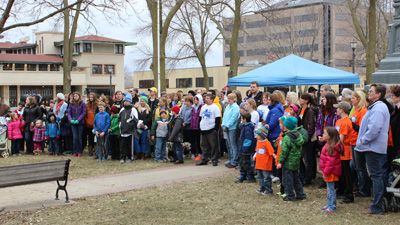 Radio personality J. Brooks from KISS Country Radio and Opportunity Village's Children's Autism Center are presenting the second annual J. Brooks Walk-A-Block for Autism Acceptance on April 2, 2015.
The event celebrates Autism Acceptance Month in April. This observance promotes acceptance and celebration of autistic people as community members making valuable contributions to our world.
Participants in the J. Brooks Walk-A-Block will walk once around Central Park in dowtown Mason City. Registration opens at 5:30 p.m. and the walk starts at 5:45 p.m. There will be a balloon send-off at 6 p.m. From 6 to 7 p.m., there will be a resource reception at the Mason City Chamber of Commerce. Area autism supports and services will be represented there to visit and answer any questions.
Register for the Walk-A-Block at www.jbrookswalkablock.org. Early registration by March 19 is $15, which includes an event T-shirt. Registration after March 19 or at the event costs $20, and a T-shirt is not guaranteed. There will be a limited number of extra shirts available at the event until they run out.
All proceeds support services for local families of children with autism at Opportunity Village Children's Autism Center in Clear Lake, Iowa.
The Children's Autism Center provides early intervention services, family support groups, educational resources, and workshops with professionals in the field. It is a service of Opportunity Village, a leader in services for individuals with intellectual disabilities since 1971. Click here for more information about the Children's Autism Center.