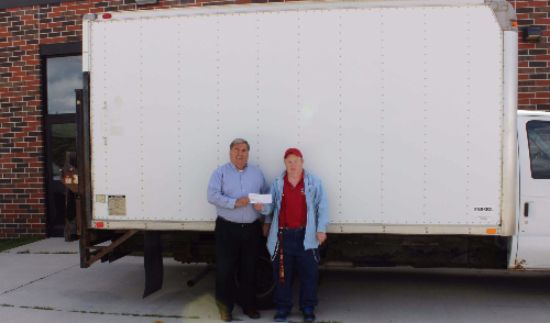 Opportunity Village received $10,000 from the Hanson Family Foundation to put towards the purchase of an additional cube van.
Opportunity Village conducts contracted assembly work for local manufacturers as well as engages in extensive recycling of textiles, paper, and cardboard. A small fleet of four cube vans is necessary to move equipment and materials to and from various communities and sites.
"In June alone we have picked up over 18,000 pounds of clothing here," said Sue Kemmerer Recycling Coordinator for Opportunity Village. "You can double that with the Fort Dodge store. These items will be used for the zippers, buttons, and fabric. Nothing goes to waste."
Kemmerer is thrilled at the thought of having an additional van in the fleet so the Village can meet the growing needs of the community. For example, Opportunity Village greenhouses grew plants this year that were marketed through six regional Hy-Vee stores. A truck was needed to deliver those plants.
"I am grateful the Hanson Foundation donated to benefit residents of North Iowa," said Kemmerer. "This will enable Opportunity Village services to grow and provide additional employment for the people we serve."