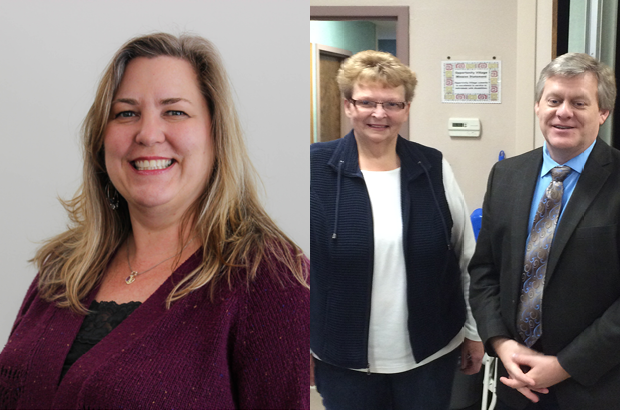 Michelle Niles and Dee Zobrosky are the first Tom Thornblade Award recipients of 2016.
Michelle, an outcome coordinator in Clear Lake, and Dee, food service coordinator at Opportunity Village Northwoods Living in Fort Dodge, received their honors at all-staff meetings held in January.
The award is given seven times per year to deserving employees in honor of longtime staff member, Tom Thornblade. To be selected, employees must be a positive influence on their coworkers by example, give of themselves consistently, and treat those supported by the Village with respect, among other qualities.
MICHELLE
After 26 years of service, Michelle is a familiar face to both employees and those Opportunity Village supports.
"She cares about the individuals we serve by showing them special compassion and helping them grow in self-reliance," said Alan Marken, who nominated Michelle for the award. "She is always happy and enthusiastic. This rubs off on her co-workers. She makes things fun for those we support."
Michelle started at the Village working as a PSP in Oak Hill and Executive cottages. Shortly after, she became a medication aide. She has worked as an outcome coordinator since 2005.
Al also noted Michelle's contributions to the Village through volunteering her time at special events and her role in bringing a fire pit to the Clear Lake campus so those supported by the Village could enjoy time around a "camp fire."
Michelle said the part of her job she enjoys most is being an advocate for those she supports, as well as the variety of the work and the different people with whom she's had an opportunity to work.
"The Village has a variety of positions available, along with room for personal growth and challenges," she said. "Here I can make a positive difference in the lives of others."
DEE
Dee also is a 26-year employee at Opportunity Village Northwoods Living. In her role of food services coordinator, those who nominated her for the Thornblade Award said she "never cuts corners when it comes to ensuring needs are met."
"She has a heart for clients and the staff," said Deb Remsburg, health services supervisor at the Fort Dodge facility. "Along with her attitude of sincere compassion toward persons with disabilities, Dee is trustworthy and conscientious in terms of utilizing resources and getting the most mileage out of every dollar spent to provide quality services to (those we support)."
Before moving into her current role, Dee was both a part- and full-time cook. She also helps out as a personal support professional when needed.
"My favorite part of my job is meeting the needs of the clients," Dee said. "They are No. 1."
In addition to her full-time role at NWL, Dee is part of the facility's Christmas and Health and Safety committees. She also volunteers at the Fort Dodge Village Store and at special events and functions.
"Dee has great respect for those we support and encourages them to do as much as possible for themselves, helping them to gain self-respect and personal dignity in their day-to-day lives," Deb said.