Fieldhouse Restaurant
Nov. 5, 2018: A Brief Public Update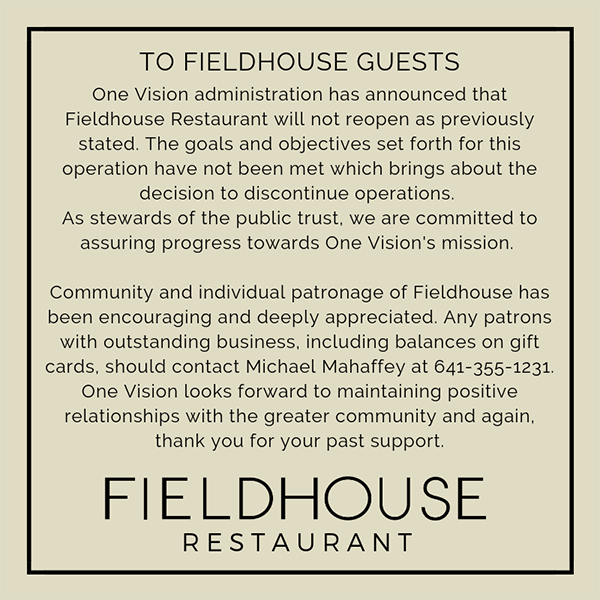 ---
Fieldhouse is located in downtown Clear Lake next to beautiful City Park. The restaurant is our fourth retail venture and is intended to capitalize on the growing local food movement while reducing our organization's reliance on Medicaid funding and providing community-based jobs for people we support.
The idea to create a restaurant originally came after our leadership team explored industries that offered individuals supported by the organization good opportunities to obtain jobs and other valuable employment skills.
Our organization is no stranger to the local food movement. In recent years, our Green Production services vastly expanded its presence in North Iowa retail settings, selling seedlings, plants, flowers, vegetables, produce, and others offerings in a variety of businesses. In 2016, we partnered with North Iowa Fresh to launch a food aggregation center on our organization's Clear Lake campus, where employees wash and package local fruits and vegetables for delivery to retailers. Both initiatives also provide jobs for people supported by the organization.
Fieldhouse is simply the newest spoke in the wheel, reinforcing our commitment to employing those supported by the organization as well as elevating food growers and producers in the area.
Joshua Frederick, a trained sommelier and seasoned restaurant manager, helped turn the vision for Fieldhouse into reality. Frederick developed a passion for local food and sustainable growing practices after spending several years working in Los Angeles for restaurants that employed similar practices. After moving back to Iowa, he partnered with One Vision when he realized how similar the organization's vision was to his own — to create a business that embraces the ideals of localism, sustainable farming, inclusiveness, giving back, and enjoying delicious food and drink.
About Fieldhouse
Fieldhouse features a seasonal menu, which highlights simple, quality ingredients, sourced locally whenever possible. Our goal is to offer our customers the freshest farm-to-table experience in North Iowa, and introduce you to the area growers and producers who make it possible. At Fieldhouse, we encourage the sharing of dishes, which creates an atmosphere ideal for interaction and conversation. Beverages parallel the food in its simplicity, and we offer a menu of classic cocktails and local beers.
Fieldhouse opened in June 2017.
Location
14 N. 3rd St.
Clear Lake, IA  50428
Contact
641-357-5030
fieldhouse@onevision.org
Hours
Monday, 11 a.m. to 3 p.m. / 5 - 9 p.m.
Wednesday and Thursday, 11 a.m to 3 p.m. / 5 - 9 p.m.
Friday and Saturday, 11 a.m to 3 p.m. / 5 - 10 p.m.
Sunday, 10 a.m. to 2 p.m. / 5 - 9 p.m.
Click to fill out an online application to work at Fieldhouse.