Glen Oaks Community
February 2019

Development of Glen Oaks, a modern community tailored to fit adults with an active lifestyle who are 55 or older, is ongoing. Glen Oaks Community consists of two primary components:   
TERRACES at GLEN OAKS
These townhome units ranging in size from 1,800 to 2,500 square feet in two- and three-bedroom layouts. Each townhome features open concept living, accessible bathrooms, and a full-size washer and dryer, in addition to other notable amenities. Plans also include a garage for each unit.
Three townhomes comprising the Terraces at Glen Oaks are now complete and ready for tours. The next set of townhomes are currently being designed and constructed. 
To schedule a showing or to learn more about the Terraces, contact local Realtor Bonnie Hall at 641-529-1820 or by email at hallrealtybh@cltel.net.   
TIMBERCREST at GLEN OAKS
Construction continues on this 48-unit apartment complex. Apartments will range in size from 778 square feet to 1,325 square feet in open concept, one- and two-bedroom layouts. Among many amenities, the complex will include storage and a washer and dryer in each unit, a multi-purpose room on each floor, and underground parking. 
TimberCrest is scheduled for completion in late fall 2019.
__
Nestled among rolling hills and mature oaks trees, Glen Oaks will offer maintenance-free living in addition to exceptional facilities. Community amenities include a heated indoor swimming pool; new fitness center; gymnasium; access to walking trails, greenhouses and gardens; and access to common areas and meeting rooms.
__
To learn more about Glen Oaks as well as One Vision's connection to the project, visit our main website here.  Feel free to access any of the resources below or contact Kim Boyd, Outreach and Resident Services Coordinator at 641-529-7736 or kboyd@onevision.org.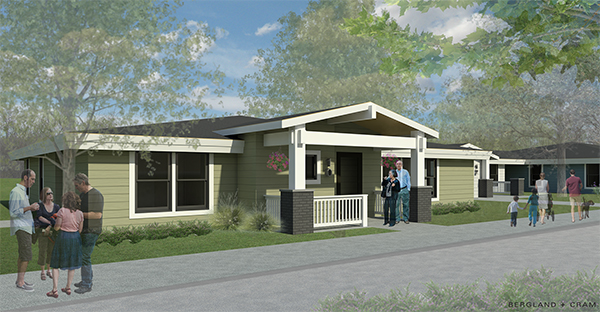 Learn More About Glen Oaks Community
Frequently Asked Questions