Glen Oaks Planned Neighborhood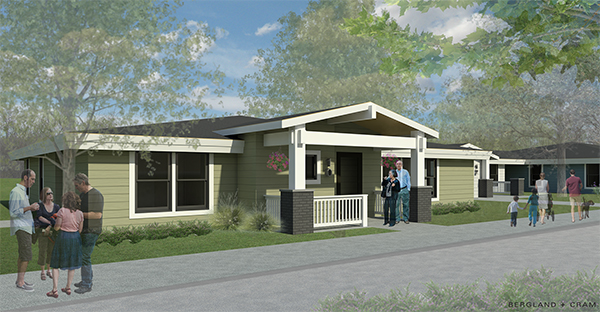 January 2018
With plans for redevelopment of One Vision's Clear Lake campus finalized, a groundbreaking is officially planned for this spring.
The Glen Oaks development was approved by the organization's board of directors last spring. The decision to pursue housing with a focus on active senior living came after careful evaluation of many possible options. Feedback from community input sessions to pursue a planned neighborhood was supported by a thorough market analysis. Glen Oaks will leverage the many existing amenities on One Vision's Clear Lake campus and will provide an additional revenue source for the organization, thus reducing its reliance on Medicaid funding. 
The need to repurpose the Clear Lake campus was facilitated by changes in the way One Vision now provides services to the people it supports. In March 2017, in order to comply with a 1999 Supreme Court decision stating individuals with disabilities have a right to live in desegregated settings, One Vision completed a successful transition of 120 individuals who previously lived in several residential cottages located on the Clear Lake campus to smaller homes in communities throughout North Iowa. In these new homes, individuals continue to receive support and services from One Vision staff.   
In all, One Vision provides services to nearly 600 individuals in 30 communities throughout North Iowa. Following national trends, the organization currently provides approximately 90% of its support services in off-campus, community-based settings. Support and work services currently provided on the Clear Lake campus will continue to evolve toward a community-based model. 
Redevelopment of the Clear Lake campus will consist of three primary components:   
Renovation of eight residential cottages on the property into three-plex townhome units ranging in size from 1,800 to 2,500 square feet in two- and three-bedroom layouts. Plans also include a garage for each unit. The senior-focused townhomes, called The Terraces at Glen Oaks, will be sold through a local Realtor upon completion.   
Construction of a 48-unit senior-focused, independent living apartment complex. Apartments will range in size from 778 square feet to 1,325 square feet in open concept, one- and two-bedroom layouts. Among many amenities, the complex will include storage and a washer and dryer in each unit, a multi-purpose room on each floor, and underground parking. The apartment complex will be called TimberCrest at Glen Oaks.   
Renovation of portions of the Kinney Lindstrom Center. Renovations will include the addition of a fitness center and multi-purpose room, as well as a protected walkway connecting the center to Timbercrest.  
Other neighborhood amenities are under consideration, according to One Vision CEO Jeff Nichols. Individuals who choose to reside at Glen Oaks also will have access to existing amenities at One Vision including Boyer Pool, the Kinney Lindstrom gymnasium, common spaces within the Kinney Lindstrom Center, walking trails, gardens and more.   
Frequently Asked Questions
Learn More About Glen Oaks