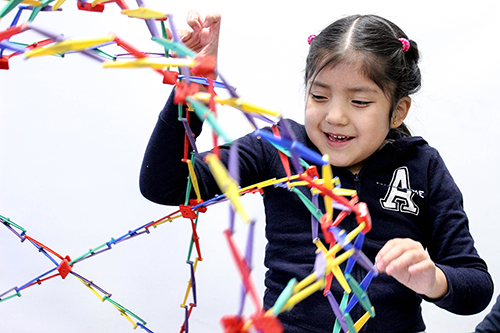 When autism advocates gather on April 2 for the 3rd annual J. Brooks Walk-A-Block fundraiser benefiting Opportunity Village Children's Autism Center, they will meet one special little girl supported by the organization who has touched the lives of many.
Kori will lead the event as the first Autism Ambassador and the face of J. Brooks Walk-A-Block. Kori was selected after her parents submitted an essay on why they felt she would be a good ambassador and how the Opportunity Village Children's Autism Center has made a difference in her life.
Kori's parents write:
"Since Kori started to smile as a little baby, people used to say that she has the most beautiful smile they've ever seen. At school, her teachers, peers, and other school staff say the same thing. … Kori is a sweet, loving little girl!
As her parents, we believe love is the most powerful remedy for her autism. Proof of that is how, every single day, Kori loves to give us hugs and kisses. Now that we have a new baby, Kori doesn't feel frustrated or mad. She kisses her baby sister whenever she wants and it's such a touching moment for us.
Kori's behavior has improved thanks to the Children's Autism Center staff. It's a blessing in our life to have people like Christina (Maulsby), Tess (Whitehurst), and Tiffany (Riley). Thanks to them, our daughter is better. We know we have a long way to go -- we know it can be hard and difficult for Kori sometimes, but we know that LOVE, patience, and all the people who help Kori are the keys for our little one to overcome autism."
Join Kori, her family, and other autism advocates at the 3rd annual J. Brooks Walk-A-Block on April 2 from 9-11 a.m. The event will be held at Clear Lake City Park. Registration and more information is available online at www.jbrookswalkablock.org.