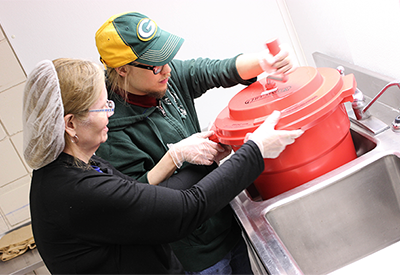 When it comes to new opportunities, Steven Colby is poised and ready to learn.
Steven, who is from Lake Mills and receives support from Opportunity Village, is among several individuals transitioning to new employment by helping launch fresh vegetable aggregation on the Village's Clear Lake campus. The operation will be housed in the Kinney Lindstrom Center kitchen, which stopped serving meals in March.
While the job is new to Steven, he is accustomed to working with fresh vegetables. He previously helped tend the gardens at his church in Forest City and even grew his own jalapeno and habanero peppers.
He has always liked working with food, Steven said. His favorite thing to cook is shrimp scampi.
"I would like to be a chef one day," he added, "so I thought I'd give culinary a try. I'm looking forward to trying something new."
Supervised by Lori Clemons and other staff from Opportunity Village's Green Production department, Steven helped kick off vegetable processing at the Village at the end of May. The facility's launch marks the first phase of a partnership between the Village and North Iowa Fresh, a grower and producer association in North Iowa.
Beginning with the first harvest this spring, growers will deliver their produce to the Village for the purpose of aggregating, bagging, boxing and tagging before it's sold into the marketplace. The operation also allows processing of Village-grown vegetables.
Launching the operation will not only provide employment opportunities for individuals like Steven, it offers a reuse option for the KLC kitchen.
Embarking on the venture benefits the area by allowing North Iowa Fresh to expand market potential for local food growers and encourage more production among these growers. Currently, no aggregation facilities exist in the Cerro Gordo County area. The closest are nearly 100 miles away from producers in the North Iowa area.
An aggregation facility in Cerro Gordo County helps eliminate barriers to getting fresh, locally grown food to market, which includes schools, senior housing facilities, and local restaurants.
Be WELLness, Hy-Vee, Diamond Jo Casino, Taste Restaurant in Osage, the Belmond Drive-In, and Clear Lake and Mason City school districts are among businesses and organizations who will utilize or have written letters in support of the operation.