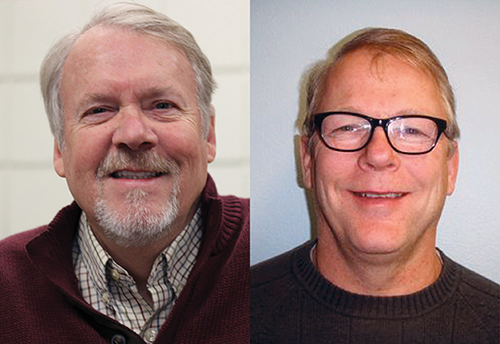 Opportunity Village Spiritual Resources Coordinator Pastor Rich Murray will retire from his position on Aug. 1.
Employed by Opportunity Village for 13 years, Pastor Rich's first position was direct support professional, supporting the daily needs of individuals living in a Village residence. This first-hand experience supporting people with disabilities provided an excellent foundation to serving as the Village's third paid spiritual resources coordinator, a position he accepted in 2007.
"Pastor Rich has ministered not only to our clients, but to our staff and families, helping them through difficult times of loss and grief, as well as times of celebration like weddings and life-changing growth. He has provided a trusted ear, a cherished friendship and, most importantly, encouraged the spiritual growth of countless people." said Michael Mahaffey, Chief Development Officer at Opportunity Village. "He will be deeply missed and remembered by many for his ministry to others."
In his time at the Village, Pastor Rich ministered to others in multiple communities through group Bible studies and Pizza and Praise groups. He also held weekly worship services, assisted people with serving others through meal programs and mission projects, conducted funerals, and offered personal counseling and support.
Spiritual retreats held twice annually often involved more than 80 people.
As people moved to homes in various communities, Pastor Rich worked diligently to assist people in connecting with a local congregation of their choosing. Pastor Rich was honored as an outstanding employee of the year in 2015.
Filling the role of spiritual resources coordinator is Pastor Scott Sokol, who will work alongside Pastor Rich in the coming weeks to become better acquainted with those he will support. Like Pastor Rich, Pastor Scott first worked at Opportunity Village as a direct support professional in one of the residences.
"This experience along with Scott's background in ministry will provide great value as he serves as our next pastor," Mahaffey said. "We are thrilled to have found someone with a deep passion for people with disabilities to continue the legacy of caring which we have grown accustomed to in our previous spiritual resource coordinators."
Pastor Scott graduated from Moody Bible Institute in 2003 and served for more than 10 years in pastoral ministry.
"During my time at the Village, God gave me a genuine love and respect for the people I served," Pastor Scott said. "Please pray for me as I take on this very important role. I am very excited at the prospect of helping people we serve grow in their personal spiritual journey."
Scott and his wife, Heidi, live in Garner. Together, they have five daughters.
A retirement celebration for Pastor Rich will be held July 13 from 1:30-3 p.m. in the Opportunity Village atrium. All are invited to attend.