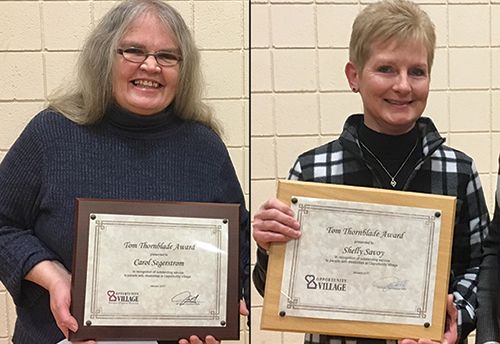 Carol Segerstrom and Shelly Savoy are the recipients of the most recent Tom Thornblade awards, presented at an all-staff training held in January.
Carol, who works as administrative assistant to Opportunity Village CEO Jeff Nichols, has worked at the Village for more than four years. She also helps fulfill other administrative duties in the Clear Lake campus main office. Carol said she enjoys the variety of her role, as well as having the opportunity each day to interact with staff and people supported by the Village.
Carol said she chose the Village because she wanted to work in a place that mattered beyond a paycheck. "I went online and read the mission statement before I applied and knew that the Village would be a place where I could fit in," she said.
According to those who nominated her, Carol is an exemplary employee "in every way."
"She strives to stay behind the scenes, always addressing the important details that likely would be missed if she were not present," reads one of her nominations. "Along with her solid work ethic, her enjoyment of life is lived out in the celebration of special moments. She looks for opportunities to lighten the days of her coworkers, whether it is a funny story, a room full of balloons for a birthday, a note of encouragement or a simple reminder that it will 'all work out okay.'"
Shelly started working for the Village nine years ago. Since then, she has provided one-on-one support to an individual who receives day services from the organization. She also spends mornings working at the Blake Drive home. Previously, she worked at Bedrock cottage on the Clear Lake campus until its occupants moved into their community-based homes.
According to those who nominated her, Shelly is an excellent role model who leads by example with her positive personality.
"Shelly deserves this award for many reasons, but mostly just for being a sincere and genuine person," her nomination reads. "We can count on Shelly to always be here, to help wherever she can, and to follow through and get things done."
Shelly said her favorite part of her job is advocating for the people she supports and making each day fun for them.
"I want to make a difference by paying it forward," she said.
The Tom Thornblade Award is given seven times per year to deserving employees in honor of longtime staff member, Tom Thornblade. To be selected, employees must be a positive influence on their coworkers by example, give of themselves consistently, and treat those supported by the Village with respect, among other qualities.