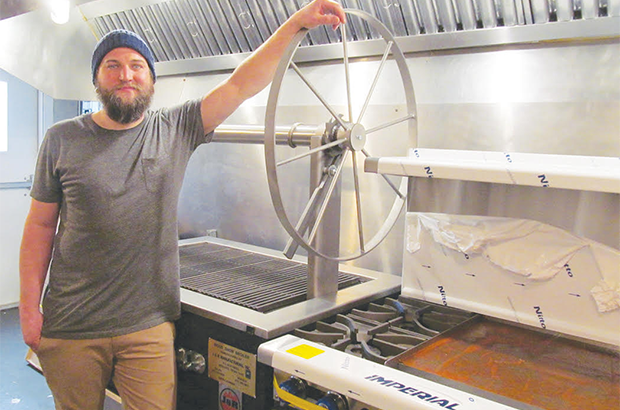 In an effort to reduce the organization's reliance on Medicaid funding, and to also provide job opportunities for individuals with disabilities, Opportunity Village is both growing and embarking on unique business ventures in 2017 to help accomplish these goals.
Many of these ventures focus on the growing local food movement as well as taking a look at Opportunity Village's existing resources and seeing how each would be best leveraged to provide jobs and revenue.
"It's a very exciting time for us as an organization," said Michael Mahaffey, Opportunity Village's Chief Development Officer. "It is both unique and a privilege to be involved in an organization that has the resources and stability to develop these diverse businesses, and it's because of community support that it's possible."
Elevating Green Production retail business
For more than 30 years, greenhouses on Opportunity Village's Clear Lake campus were used to grow starter plants and garden produce which were then sold at the General Store or consumed among the campus' 10 cottages. Individuals supported by the Village often received job training in the greenhouses, learning soft skills while earning wages.
In recent years, prompted by a goal for the organization to be less reliant on Medicaid funding, Opportunity Village leadership examined Green Production operations to determine if it was feasible to turn the department into a more profitable venture.
To do this, Village leadership promoted employee Jim Jackson, who previously worked in the Village's maintenance department. Jackson, who operated a retail greenhouse in the past, was the best choice to take Green Production and elevate it from a service to business model. In the past several months, under Jackson's leadership, Green Production vastly expanded its presence in North Iowa retail settings, selling seedlings, plants, flowers, vegetables, produce, and others offerings in a variety of businesses, effectively increasing the amount of revenue generated for Opportunity Village -- revenue used to provide valuable services to individuals with disabilities.
And as Green Production operations expand, so will the need for employees. With approximately 80 individuals supported by the Village interested in community-based employment, shifting Green Production away from prevocational training toward a more business-based model will open several opportunities for these individuals.
Furthering a partnership with North Iowa Fresh
Green Production has only scratched the surface of opportunities in the area. Last year, to expand its reach and get more products on the shelves of local stores, the department partnered with North Iowa Fresh (NIF), an organization that acts as a connector between local growers and farmers and area businesses, restaurants, and other organizations.
In addition to serving as the contact point between growers and retailers, NIF and the Village launched a pilot program last spring to repurpose the Kinney Lindstrom Center's commercial kitchen into a food aggregation center. This fills a need for NIF, which delivers produce and goods to the Village, where employees wash and package goods before delivery to retailers.
The aggregation center project was funded with the help of the Local Food Promotion Program through the United States Department of Agriculture. The project helps provide community-based jobs for individuals supported by the Village, whose wages, as well as a portion of Village staff, are paid through grant funding.
Currently, project partners are working with a variety of local organizations including the North Iowa Food Coalition, Healthy Harvest, North Iowa Corridor Economic Develop, and the NIACC John Pappajohn Entrepreneurial Center to study the feasibility of turning the aggregation center into a business capable of preserving and processing fresh, local food for area schools, restaurants, and senior living facilities. This project is funded in whole or in part by the Leopold Center for Sustainable Agriculture. Established by the 1987 Iowa Groundwater Protection Act, the Leopold Center supports the development of profitable farming systems that conserve natural resources. The ultimate goal again is to generate additional revenue for the organization to provide services and reduce reliance on Medicaid.
"This helps us expand Green Production's reach in the area and utilize our commercial kitchen, which closed last March," Mahaffey said. "There's little investment on our part, just leveraging our existing resources."
New restaurant to benefit Village, showcase local food
While exploring industries that offer good opportunities to provide individuals supported by the Village with jobs and valuable skills needed for employment, Mahaffey said the food service industry is ideal. Additionally, the need to grow the reach of Green Production as well as North Iowa Fresh was still present.
To provide another solution and continue to generate revenue for the organization, Opportunity Village, in partnership with Forest City native, trained sommelier, and seasoned restaurant manager Joshua Frederick, will open a restaurant in Clear Lake this spring. The restaurant will be located in a leased building at 14 N. Third St., near downtown and City Park.
"This idea surfaced because the environment provides an opportunity for those we support to work as dishwashers, bussers, prep cooks, and more," Mahaffey said. "They can start working with us, and it will prepare them to work elsewhere."
The restaurant concept will be "farm-to-table." The menu will constantly change and evolve, always featuring foods that are fresh, regional, and in-season. This means dishes may feature vegetables grown in Opportunity Village's greenhouses or grass-fed beef raised at a North Iowa farm. NIF will help connect the restaurant with local growers and producers.
"This will set us apart from other restaurants because there is nothing else like it in the area," Mahaffey said. "The entire concept revolves around local businesses supporting local businesses."
The restaurant will operate as a limited liability company, but will be an extension of Opportunity Village services. Revenue generated will be used toward services to reduce the organization's reliance on Medicaid funding. The restaurant is expected to open in April.