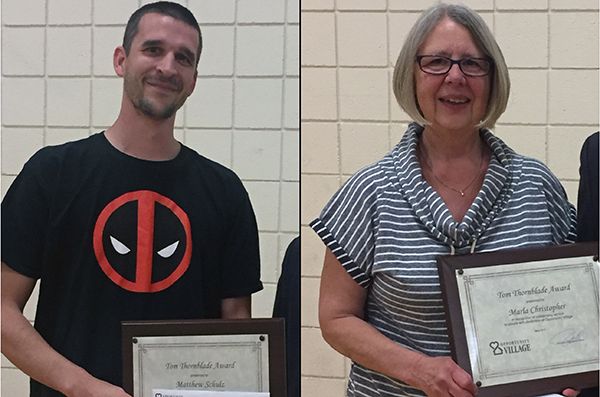 Matthew Schulz and Marla Christopher are the recipients of the most recent Tom Thornblade awards, presented at an all-staff training held in May.
Schulz, who works as a supported community living supervisor (SCLS) for Ventura's Lake Street home, has worked at the Village for more than five years. According to those who nominated him for the award, Schulz is an excellent leader and a positive role model for other staff.
"He is an excellent advocate for the people we support," said Michelle Lincicum in her nomination letter. "His enthusiasm is infectious and he puts everyone in a good mood when he is around."
Matthew started his career at the Village working in Twilight cottage on the Clear Lake campus, where he worked as a personal support professional and eventually became a shift coordinator. He then worked at the 4-Plex in Clear Lake, and also took a role as team leader for Cloud Nine cottage and Garner's Allen Street home.
Before coming to the Village, Matthew worked several factory jobs. Eventually, he obtained his CNA certification and got a job at a nursing home. Staffing issues were a challenge for Matthew and ultimately the reason he chose to seek a career elsewhere.
"I liked what I did, but the turning point for me was when a woman asked if I had time to just sit and chat with her, and my answer was no as more folks needed help," Matthew said. "I hated that answer. I came to the Village to give folks the kind service I couldn't provide at a nursing home. It is always much more for me than the care provided -- it is about the quality of life."
In his role, Matthew enjoys training and hands-on coaching. He also enjoys helping fellow employees think outside the box and helping those we support.
"I love to empower and encourage individuals to make decisions in regards to their lives," he said.
Those who work with Matthew agree.
"He wants not only his employees to grow and improve themselves and their skills, but also the people we support," said Ashley Spilman, who nominated Matthew for the award. "He does everything in his power to make sure their needs and wishes are met. He suggests things they've never done and makes it happen."
Marla Christopher, who has worked for the Village for six years, is currently a nurse for Ralph Schroeder Group Home in Clear Lake, as well as health care coordinator for regions II and III.
Marla worked in Mason City and also on the Clear Lake campus, helping care for residents of Cloud Nine and Four Seasons cottages. She chose to work at the Village because it was a new experience, she said.
"It's a different aspect of nursing than what I've done throughout my career," she said. "This has taught me different aspects of caring for individuals with disabilities.
Marla was nominated for the Thornblade Award because she consistently goes above and beyond what's expected of her.
"She will make herself available to help another nurse, a staff member, or anyone who needs help," said Diane Carlson, who nominated Marla. "She makes time to help in any way she can. …I am thankful to be her colleague."
In addition, Marla noted how she works with a great group of nurses.
"The best part of my job is also seeing the people we support smile," she said.
The Tom Thornblade Award is given seven times per year to deserving employees in honor of longtime staff member, Tom Thornblade. To be selected, employees must be a positive influence on their coworkers by example, give of themselves consistently, and treat those supported by the Village with respect, among other qualities.