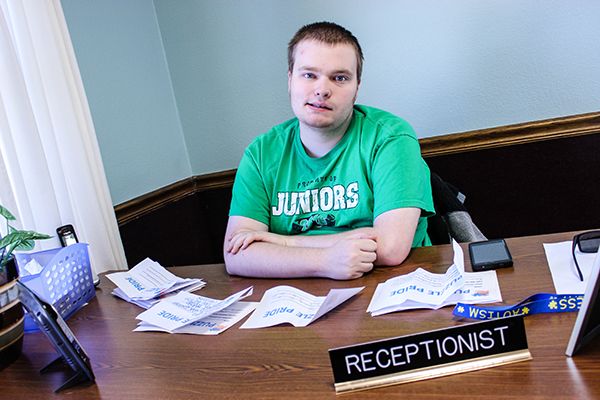 If you recently paid a visit to the Children's Autism Center (CAC) in Clear Lake, a friendly new face was likely there to welcome you.
This month, Josh Dempsey will mark six months of employment with the CAC. Josh works at the center four mornings per week as a receptionist. In his role, he's responsible for many tasks including greeting families and visitors, answering the phone, copying and laminating documents for CAC staff, replenishing building supplies, getting the mail, light cleaning and much more.
Josh secured the job with the support of One Vision Employment Solutions. He was referred to OV in high school to help him gain employment and social skills. He met his job coach, Penny Froiland, the summer before his final year of school. Together, the pair explored several potential places of employment that fit Josh's interests and worked for nearly a year to help him build computer and employment skills.
"Josh's goal was to get a job to help his family pay the bills — that's what he wanted," Penny said. "We explored computer repair to law enforcement to the movie theater, but we finally found the best fit when we heard the CAC was looking for a receptionist."
Josh was familiar with the CAC and its staff. As an individual on the autism spectrum, Josh participated in youth social skills classes at the center until he graduated high school. With Penny's support, he filled out an online application for the position, interviewed, and was hired for the job.
In addition to working at the CAC, Josh also volunteers at The General Store in Clear Lake. He currently lives in Mason City with his family.
Josh said while he wasn't sure what he wanted to do once he graduated high school, he's made many new friends working at the CAC. Meeting new people is one of his favorite parts of the job.
The growth Penny has witnessed in Josh has been tremendous, she said. Someone who once refused to use a phone now makes appointment reminders to CAC families. Someone who did not like the noise made by vacuum cleaners now vacuums rooms throughout the CAC.
"He found a very calm environment where he is appreciated," Penny said. "And he is definitely appreciated."
He is appreciated, affirmed Bob Mason, director of operations at the CAC. Mason describes Josh as a caring heart who is conscientious and truly wants to help others.
"Josh's employment at the CAC is truly a win-win," said Mason. "While he is cautious at times, he is always willing to 'step up' and help. He has a good sense of humor, but also knows when to be serious. ... Both Josh and the CAC benefit from his employment here."