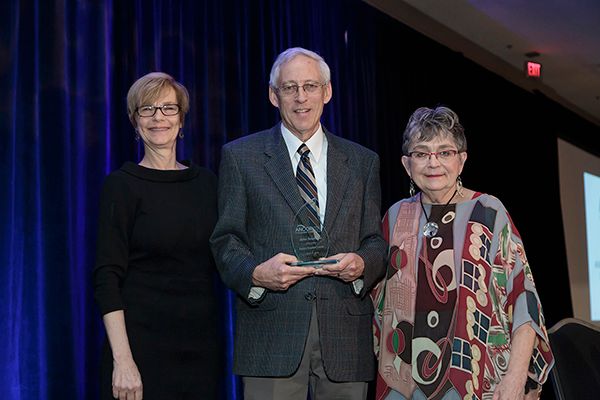 In a ceremony at its April 17 annual meeting, the ANCOR Foundation inducted former One Vision Chief Executive Officer John Severtson into its Legacy Leaders Circle.
Created in 2010, the Legacy Leaders Circle recognizes long-time ANCOR members who have made significant contributions to ANCOR and the broader disability and provider community during their tenure as an ANCOR member. Severtson was among seven individuals from across the nation who were inducted into the Legacy Leaders Circle.
ANCOR members — which includes One Vision — are part of a national association representing over 1,400 community service providers and 52 statewide provider associations supporting individuals with intellectual and developmental disabilities to fully participate in their communities.
"The recipients of the Legacy Leaders award are trailblazers in the disability community, and the 2018 inductees have made some of the most significant contributions to the development and professionalization of our field," said Barbara Merrill, ANCOR's chief executive officer. "These visionary leaders are truly reshaping the landscape of our field and crafting new opportunities for people with intellectual and developmental disabilities to thrive."
Severtson, of Clear Lake, served as CEO of One Vision, formerly Opportunity Village, from 2002 to 2014. Severtson first became involved with ANCOR alongside Gary Mrosko, who served as executive director of OV for more than 17 years prior to Severtson.
Severtson contributed and participated in many ANCOR activities but is most often remembered and recognized for his leadership and focus on supported employment for individuals with disabilities. Understanding the significance of supported employment in the lives of those with disabilities, Severtson was successful in directing ANCOR's board of directors and the organization in expanding its scope and vision to include awareness and advocacy for this, as well as access to information for ANCOR members.
Severtson served on ANCOR's Government Relations Committee, and chaired ANCOR's Employment Subcommittee.