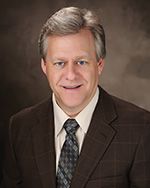 Greetings, family and friends!
With the vestiges of winter and spring behind us, I'm looking forward to all the positive efforts and momentum happening throughout our organization.
In May, One Vision held its annual luncheon and an inspiring video highlighting just a few of the amazing successes enjoyed by some of the people we support.
Those successes wouldn't be possible without the many dedicated staff and volunteers, as well as support from the broader community. To view the video, visit our website at www.onevision.org
In June, we officially started providing behavioral services at our Children's Autism Center in Fort Dodge. This came after securing a physical location at the University of Iowa Child Health Specialty Clinic in Fort Dodge. Also, we are nearly finished remodeling the first cottage on the Clear Lake campus — the first three-townhome unit that will comprise The Terraces at Glen Oaks — and kicked off excavation and utility work for TimberCrest at Glen Oaks, a 48-unit apartment complex with a focus on active seniors. Work continues with the City of Clear Lake to obtain final approval on the overall planned development overlay plan, as well efforts related to tax-free bond financing for our Glen Oaks development. This is anticipated to take place in July.
June is a special time of year at One Vision, and this year, we spent the entire month hosting a series of specific events to recognize the most important ingredient for our success — our staff! In total, nine appreciation picnics were held for our staff, their families, and the people we support, and were held throughout the various areas in which we provide services in hopes more of our staff would be able to come celebrate with us.
I had the opportunity to attend a picnic in Fort Dodge, and while the weather chased us inside and didn't allow us to participate in some of the games and other planned activities, I was impressed at how well everyone adapted to the quick change in plans. It was also heartwarming and inspiring to witness our staff truly living our vision of connecting people with purpose! Everywhere I looked, I saw people we support, staff and their family members, all interacting as one large family! What a great experience. It was also wonderful to see the diversity in ages of everyone in attendance – a clear indication that age is simply a state of mind. Everyone was having a good time visiting, interacting, eating great food and simply enjoying the event and the company of one another.
Thank you to everyone that helped make the event happen, and THANK YOU to all the staff who work so hard at delivering our mission to the people we support!!
Warm regards,
Jeff Nichols
641-355-1210
jnichols@onevision.org