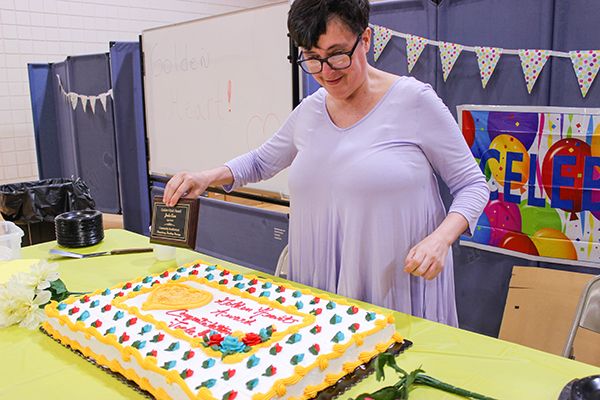 Many apt combination of words exist to describe Joele Case, but a strong, social self-advocate may perhaps be the best choice.
Joele recently was recognized with the Golden Heart Award, an honor presented to an individual supported by One Vision who exhibits competence, community involvement, courtesy, and courage. Joele is a familiar face to many around One Vision's Clear Lake campus as she is a long-term member of both the Clear Lake and the One Vision communities.
"Joele gives true meaning to the term 'go-getter,'" said Susan Hickman, who nominated Joele for the recognition. "She has gone above and beyond in each of the categories for this award. She rarely misses a day of work. She makes everyone feel very welcome to Bedrock (cottage), and she is very independent in so many tasks."
Susan called Joele a "social butterfly," noting how she volunteers each week at Oakwood Care Center in Clear Lake, wehere she helps others play Bingo. Joele also attends a knitting class and volunteers at several One Vision events including the Children's Autism Center Halloween party, the annual Benefit Walk, and Festival of Trees. She also collects donated food items for Backpack Buddies, which is organized by One Vision's Spiritual Life program.
"Joele is always willing to lend a helping hand to those in need," Susan said.
Joele is strong-willed, and never hesitates to advocate for herself, said Heather Warburton, who also nominated Joele for the award.
"When she was in the care center recovering from an injury... she continued to persist and advocate while regaining her strength and mobility until she was able to move back to Bedrock," Heather said. "Joele is so friendly and social, and she strives to maintain relationships she has made with everyone throughout the years."