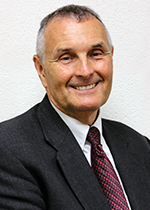 Brad Klug, former CEO of Rabiner Treatment Center in Fort Dodge and experienced human services professional, recently joined the One Vision executive leadership team as director of Region IV. Klug started in his new role in late August. 
Klug's career in human services spans 36 years, starting in 1982 at Hillcrest Family Services in Dubuque. While at Hillcrest, Klug filled roles as youth care worker, program supervision, personnel as well as executive leadership. In 1999, Klug became CEO at Rabiner Treatment Center in Fort Dodge and remained there until its closing in July 2018.  
Klug said he made the decision to join One Vision because he felt it would be a good fit for him. 
"I sensed that it was a great organization and that I could easily become a part of this team," he said. "It was an opportunity that allowed me to continue helping others and to stay in the Fort Dodge area." 
In his role as director of Region IV, Klug leads staff and direct support services in Fort Dodge, Webster City, Eagle Grove and Humboldt. He is based in Fort Dodge. In the coming weeks, while continuing to learn and navigate his new role, Klug said he plans to focus on connecting with the Fort Dodge community to raise further awareness about One Vision and its services. 
Originally from Cleveland, Ohio, Klug earned his bachelor's degree from Clarke College in Dubuque and received his Master of Social Work Degree from the University of Iowa, in Iowa City. Brad has been a Licensed Master of Social Worker in the state of Iowa since 1997.  
Brad and his wife, Elaine, reside in Fort Dodge. They have two adult daughters and four grandchildren.