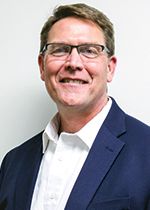 I want to take the opportunity in my first One Voice column to introduce myself to you. My name is Mark Dodd, and following the departure of Jeff Nichols in late September, I am currently serving as interim CEO for One Vision.  
Similar to many of you reading this column, as well as many others who reside in communities where our organization provides services, I have a personal connection with One Vision. My uncle David received employment services with One Vision in the late 1990s and into the early 2000s.  David received services from our organization after he was no longer to able perform his part-time jobs in Nora Springs due to physical health changes.  
This was a difficult transition for David, yet, with the support of staff at OV, he made this transition and developed a deep connection here.  I recall how happy and engaged he seemed as he told me about his work and his friends he made.  What struck me as I talked to Uncle David over those years was the organization's compassion and commitment to improving the lives of others, so when I had an opportunity to join One Vision in August 2017, I knew it was one I did not want to pass up.  
I have spent my entire 24-year career in the nonprofit, human services field.  My background and training are in counseling, and in addition to this direct service experience, for the past 12 years I served in a variety of management and leadership roles, including joining One Vision as the chief operating officer, where I focused on leading the Children's Autism Centers, as well as assisted with staff leadership development efforts and oversaw the organization's Council on Quality and Leadership accreditation.
My wife, Shannon, and I are both originally from north Iowa and currently reside in Mason City.  Although we spent about 12 years away from the area to pursue our respective educations and begin our careers, as our children grew, we knew we wanted to return home to be closer to family. That was 17 years ago. All three of our daughters—Maddison, Emily, and Sarah—are now adults and headed into their own education or careers.
As I reflect on the opportunity to serve as the interim CEO for One Vision, I am humbled to be in this position and have the ability to support our many improvement efforts, including moving the remaining people supported in campus settings into smaller, community-based homes; moving toward the completion of our senior-focused housing, a needed amenity for this area; further growing employment opportunities for individuals we support; and transitioning our accreditation to the Council on Quality and Leadership.
While it's true change can be difficult, and at times it can feel we are still far from our goal, it is also true that all improvements require making changes. 
I am excited about the improvements we are making at One Vision. My main goal as interim CEO is to make sure our staff have the resources and support necessary to enact the changes I know will allow our organization to continue to provide the highest quality services in North Iowa.
Mark Dodd
641-355-1270
mdodd@onevision.org