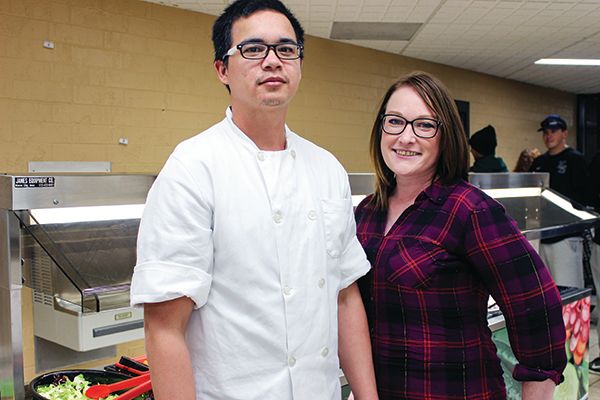 As 2018 draws to a close, several One Vision services are commemorating growth through expansion into new Iowa communities. Among these are supported community living, employment, and autism services. 
 Community Home Built In Osage
In January 2018, One Vision assumed responsibility of services for several individuals in Osage from Mitchell County Social Services. These individuals previously received services through the county, but, in order to comply with federal regulations, were moved into two community-based homes. While One Vision provided hourly support to people in the Osage area, supported community living services (SCL) was a new venture for the organization, said Tracy Mattson, region I director. 
The need for SCL existed, Mattson said, and when additional people in the Osage area in need of support expressed their desire to live independently, One Vision partnered with a local builder to construct a site home, providing a third residence for those receiving support through the organization. That home was completed in spring 2018. 
Today, One Vision supports 20 people in the Osage area. 
Employment Solutions Expands Into Hampton
After he was told he was "unemployable" by another agency, one individual reached out to One Vision Employment Solutions to see if staff could help him obtain a job.
"We agreed to it," said Dana Payton, employment supervisor for the Clear Lake area. "Not only did we find him a job, but after he took a break, we found him another job."
Employment Solutions staff began receiving additional referrals from case managers once they heard of this successful placement. One Vision added a full-time staff earlier this year to support those needing services. Amber Meyer, One Vision employment specialist supporting the Hampton area, works from her office in the Franklin County General Relief Building.
The organization currently provides employment support for 17 individuals in the Hampton area. Payton said there are future plans to expand staffing there.
ABA Services Begin At Fort Dodge CAC
The Fort Dodge Children's Autism Center has started providing applied behavior analysis (ABA) therapy one day per week, located at University of Iowa Child Health Specialty Clinic - Physicians Office Building West in Fort Dodge. Services are supervised by Janice Robinson, BCBA. 
In addition, One Vision recently hired April Mason as a behavior technician for the Fort Dodge CAC. Mason will support families two days per week and spend time each week on outreach and making connections with Fort Dodge area providers and partners. 
For more information about Employment Solutions, supported community living services, or the Children's Autism Center, visit www.onevision.org.