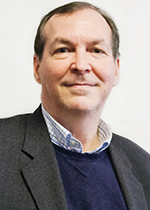 Jeff Osmanson has joined One Vision's executive leadership team as chief business development officer. Jeff started his role in February.
As chief business development officer, Jeff will oversee operations of the General Stores in Clear Lake and Fort Dodge, Tried & True in Mason City, and One Vision Green Production. In addition, he will lead the organization's efforts in identifying new business opportunities to help diversify revenue and reduce One Vision's reliance on Medicaid funding. 
Jeff recently returned to Iowa from Atlanta, Ga., after 38 years working for Macy's at the corporate level. He also worked for Kohl's and did consulting work across the country. His experience spans nearly 40 years and includes developing new business opportunities, logistics, and assisting with the acquisition of smaller companies.
Jeff chose to work at One Vision because it would be a new challenge that suits his management and leadership style. "I tend to gravitate toward causes, and am both a giver and a helper of people," he said. 
As he spends time learning One Vision's existing businesses, Jeff plans to explore new ways of generating revenue for the organization by looking forward. "I definitely want to explore things that are non-traditional," he said. "My goal is to look to the future and see what's happening there. The foundation of our businesses here will stay, but what new things can we do to grow?"
Jeff currently resides in Fort Dodge. He has three grown daughters.