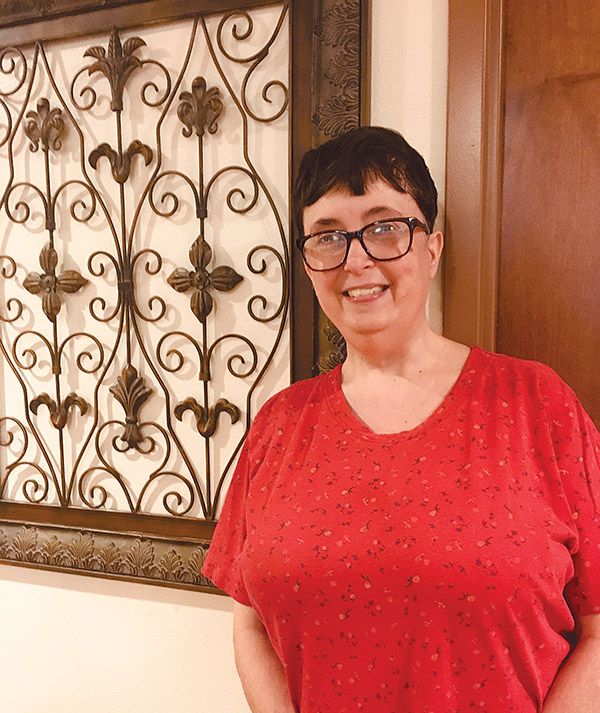 On her second day in her new home, where she now lives with three other ladies, Joele was busy making plans for dinner. Along with her housemates, Joele is now involved in meal planning, grocery shopping, cooking and washing the dishes. The added chores don't bother Joele as she likes to stay busy. 
Joele moved recently and in her words, she "loves it." "It's really quiet here," she commented, compared to her previous home where she lived with up to eleven other people in one of the cottages on the main campus. 
"With the changes taking place at the main campus, we knew we would be seeing some changes for Joele. This opportunity came along and we thought we better take it," explained George Case, Joele's father. "We are really happy to keep Joele close by."
Joele has a laptop computer and appreciates being able to access the internet in her new home.  She enjoys staying connected with the world around her. "It was my daddy's computer," she said. "But it's mine now."
Joele's parents could have moved anywhere when they retired. They were accustomed to moving. Having held a career in the military meant they moved frequently and even lived oversees. They wanted what was best for their daughter, and that became the determining factor for choosing Clear Lake, IA as their home for retirement. 
Clear Lake was home to an agency with an outstanding reputation, then known as Opportunity Village.  
"We had heard about this great place called the Village, but until we came to see for ourselves, we had no idea how neat it was," said Joele's father, George. In October of 1996, Joele began her new life.
Fast forward 23 years and the Case family faced another decision about Joele's life. Joele was given an opportunity to move into a five bedroom home on Clear Lake's north side where she has greater independence, but is still able to keep family close by as she connects to the wider world.
One Vision staff are in the home providing support around the clock, just as they were in the cottage on campus. This knowledge provided mom and dad the assurance needed to make this big decision about moving Joele.
"I just love it here!" Joele proclaimed about her new home.