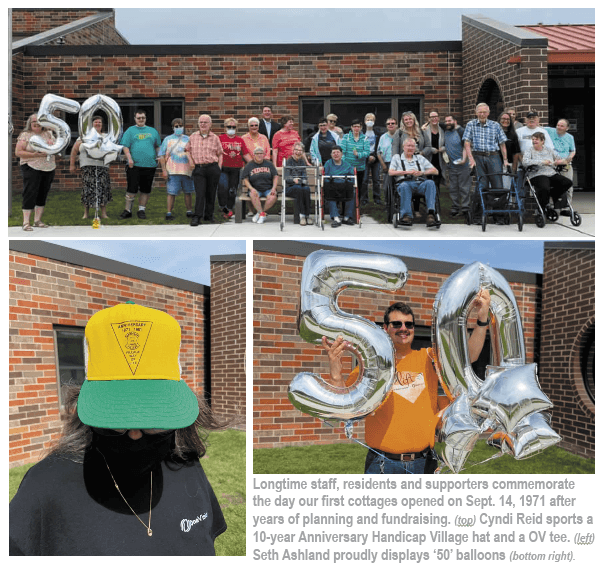 Originally known as Handicap Village, we first opened our doors on September 14, 1971. What began as two cottages on a single campus in Clear Lake has grown beyond our founder's dreams. Families that were looking for meaningful lives for their children had conversations that led to the concept of our organization–then named Handicap Village–and the evolution to One Vision. The organization has grown into various services that include independent living, small group settings, supporting children with autism, and employment services.
Since that time, this non-profit has provided supports to 2,139 individuals and has transformed from a Village on a single campus serving 160 people in Clear Lake to being in 30 communities across North Iowa, supporting more than 400 people with disabilities where they live and work. 
Today, the organization has more than 400 part-time and full-time employees.  Many of their employees have worked for One Vision for 20 years or more. Ten of their employees have been with OV for over 43 of the 50 years we've been in existence. Their commitment to providing services "is just infectious," according to One Vision CEO Mark Dodd. 
One Vision's employees find their purpose by discovering a career supporting the success of others. It's a career that truly has meaning for many, including their long-time employees, whose decades of experience provide valuable inspiration to their fellow employees. As a non-profit that provides support 365 days/24 hours a day for individuals with intellectual and developmental disabilities, everything at One Vision centers around creating a workforce that helps the people they support achieve their best lives. 
"It's important for each person to feel meaning in their life and as I work here I realized that I make an impact on people every day."
—Randall Reid, DSP MA, 29 years at OV
Over the years, as we have worked to ensure sustainability for our organization, One Vision's General Stores in Clear Lake and Fort Dodge have helped people shop with a purpose, as all proceeds from the sale of donated items goes back to fund our mission. If you are looking for a more upscale thrift shopping experience, then stop in to our Tried & True Boutiques, conveniently located in Clear Lake and Osage.  
Each shopping experience is made possible by dedicated staff and volunteers and generous donations from the community of clothing, furniture and other household items. One Vision's retail thrift stores also provide gainful employment for people we support. 
Did you know One Vision also recycles textiles from the general stores and boutiques? One Vision's recycling department keeps over 1 million pounds of material out of our landfills each year! 
One Vision's Children's Autism Centers, in Clear Lake and Fort Dodge, provide valuable therapies and support for children on the autism spectrum and their families. Improving the lives of over 70 kids and their families in North Central Iowa. 
A larger gathering and Annual Meeting to be held October 19, 2021.