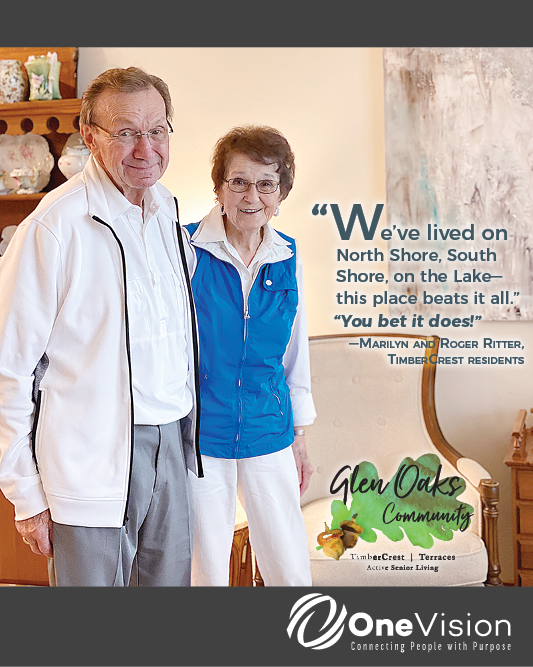 One never knows when their life's path will lead them back to familiar faces and places. Over 40 years ago, Roger and Marilyn Ritter stood on an empty plot of land that would one day become Handicap Village, as One Vision was originally known. As the young couple helped prepare the land for our organization's strong foundation it is probably safe to say that no one in the founding group could have anticipated the additional sustainability to One Vision's original mission that would bring Roger and Marilyn back to that spot with a whole new outlook on life.
The Ritters are among the newest residents to join Glen Oaks Senior Living Community. Glen Oaks is the most recent addition to One Vision's portfolio of community ventures that serve to make the best use of available assets due to a national mandate that required One Vision to integrate the people we serve into smaller, community-integrated housing. Glen Oaks is comprised of TimberCrest Apartments and The Terraces Townhomes that offer a unique opportunity for active senior living, which is a first of its kind in North Iowa.
Longtime residents of Clear Lake, they originally moved to the area from Fort Dodge to work on a similar project to fill the need for senior housing at the lake. "We've been up here since 1965," explained Roger. "We built Oakland Manor to give you an idea. My parents came to us and wondered if we'd be interested. They approached us and so we ventured into construction of that facility because the city of Clear Lake wanted a more up-to-date facility."  
One Vision worked extensively with city leaders on how best to re-purpose our campus, and the need to grow safe and engaging living options for our growing senior population was once again front and center.
"The one problem?" joked Roger. "I'm too happy. Serious. We both are. Very, very happy."
"Yes, we both are," Marilyn agreed. "This is really what Roger needed and it's good for me too."
"To be perfectly honest, he knew right away. Not me--we saw it in the very early stages. I had to see more completion. At that time I really wondered--"
"--Is this for us?" Roger added. 
"But it's all changed in my mind," Marilyn confirmed.  
Glen Oaks Community provides ample opportunities for recreation without having to worry about traffic--walking trails, pool and wellness center and exercise programs curated by Steven Story, Pool and Wellness Manager. 
Roger Ritter wants more people to know about the wonderful community of Glen Oaks. "We're very, very supportive of the facility. We feel more people should become familiar with it."
After moving from their North Shore Condo they lived in since '91-'92, both Roger and Marilyn have been impressed with the ease of transition facilitated by Kim Boyd, Outreach and Resident Services Coordinator. "Kim is wonderful. She is behind you all the way. When the little things needed adjustment, someone was up here right away to fix it. That means a lot when you're new in a place," explained Marilyn.
"She's great. She's really tops. We think a lot of Kim," Roger agreed.
Kim works hard to make sure TimberCrest residents have socializing events and promotions lined up weeks in advance. The Ritters wouldn't miss the Friday Coffee "Get to know your neighbors" get-togethers. Now that they're getting settled in, they look forward to their new life at Glen Oaks. "We have been getting acquainted with the other residents and everyone has been so friendly." 
One special connection for the Ritters has been long-time friends Dennis and Donna who moved into TimberCrest 7-8 months ago. Dennis and Roger went all the way through grade school, high school, and 2 years of college (before enlisting as a paratrooper in the Korean War) and who later was a groomsman in their wedding. "When we heard they were here that encouraged us even more," said Roger.
Glen Oaks offers a chance to reconnect with old friends and to meet new ones, as active seniors chart their next course in life. Although it's been a big step, Roger acknowledged, "It's been a real pleasure for us to be here."
Marilyn agreed, "It's home."
If you are interested in more information contact
Kim Boyd, Outreach and Resident Services Coordinator at kboyd@onevision.org or 641-355-1294 or visit www.glenoakscommunity.org.