24th Annual Festival of Trees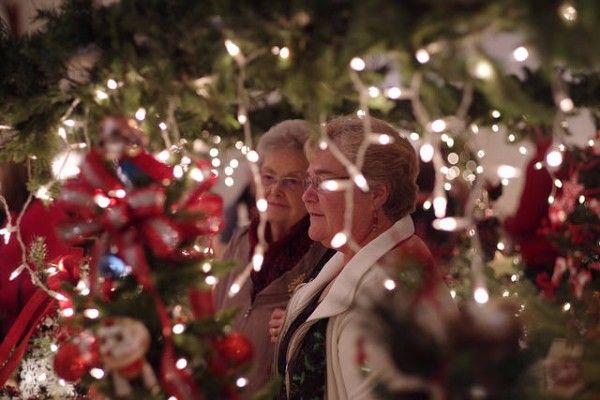 Kick off the holiday season at the 24th annual Festival of Trees, taking place Dec 5th-8th in Clear Lake.
More than 100 Christmas trees, wreaths and swags of all sizes will be on display and for sale at the Kinney Lindstrom Center gymnasium throughout the weekend. Trees are decorated by various volunteers, including local organizations, businesses and residents. Events planned during the Festival  include special activities for children and families, the Lights On 5K Run/Walk, an Opening Night gala and Cookie Walk, as well as live musical entertainment.
The festival is a fundraiser for One Vision. Proceeds from the event will benefit services for those supported by the organization.
Festival events include:
THURSDAY, Dec 5th
The annual Lights On 5K kicks off Festival events at 4:30 p.m.  The run will start at The Other Place, 200 U.S. Highway 18, and follow streets throughout the One Vision neighborhood in northwest Clear Lake. Participants are encouraged to dress in holiday lights and costumes.
Registration is available at www.lightson5K.org at a cost of $25-30 per person. Participants may also register at the event. Proceeds from the Lights On 5K are used to buy Christmas gifts for individuals in need who are supported by One Vision.  
FRIDAY, Dec 6th
Be among the first to view and purchase a decorated tree at the Opening Night gala, held from 5-8 p.m. Opening Night features hors d'oeuvres, desserts, wine and beer, and live music.
Tickets for Opening Night are $35 per person, available online at www.ovfot.org, or $40 per person at the door or $250 for a reserved table of 8.
SATURDAY, DEC. 7th
Kids and their families have a chance to enjoy Breakfast with Santa from 8-11 a.m. The Clear Lake Knights of Columbus will serve pancakes, sausage and bacon. Admission is $8 for adults and $5 for kids ages 5 and under. Pictures with Santa are available from 8 a.m. to 1 p.m.  Breakfast tickets include admission to Festival tree displays.
Kids also can make gifts to take home or share with loved ones at the Santa's Secret Workshop, held from 8 a.m. - 1 p.m. The workshop allows kids supervised "parent-free" time to create something special on a child-sized budget. Parents can enjoy a drink from the hot chocolate bar while waiting for their children. Tree displays are open Saturday from 8 a.m. to 3 p.m. Admission to only view trees is $2 per person.  
SUNDAY, DEC. 8th
Let someone else take care of the holiday baking this year at the Cookie Walk. Attendees choose from a large selection of homemade holiday cookies and candies, available for purchase. The event will be held from 11 a.m. until cookies are sold out.
Tree displays are open from 11 a.m. to 2 p.m. Sunday. Admission is $2 per person. Buyers also are allowed to pick up their purchased trees following the event's close.
__
Tickets for Opening Night and Breakfast with Santa are available online at www.ovfot.org, More information on events also can be found online. Tickets will also be available at the event. 
All Festival of Trees events, with the exception of the Lights On 5K, will be held at the Kinney-Lindstrom Center, located on One Vision's Clear Lake campus, 1200 N. 9th St. W.
One lucky person who buys online tickets for Opening Night or Breakfast with Santa by Nov. 29th will be randomly selected to win the Golden Ticket. The Golden Ticket admits the winner to the Festival of Trees before anyone else, for an exclusive early preview of the decorated trees.  The winner gets to pick out their favorite tabletop tree, wreath, or swag as a gift from One Vision.
For more information about Festival of Trees, visit www.ovfot.org, or contact Jennifer Pinske at 641-355-1356.
---
Interested in decorating a tree for next year's Festival? Contact Jennifer Pinske via email or by phone at 641-355-1356.