Disc Golf Course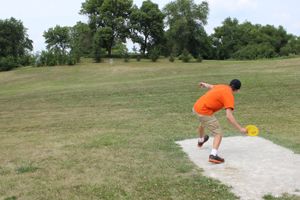 Come enjoy the 18-hole disc golf course on our Clear Lake campus! The course is open to the public, free of charge.

The object of disc golf is to make the fewest number of throws to land a flying disc in a chain basket.  It's a popular outdoor game, which fits into our strategic plan goal to improve physical, emotional, mental, and spiritual wellness.

The original nine-hole course was paid for through a donation in memory of Darrell Hier, an avid Clear Lake golfer.  In 2014, this was expanded to 18 holes through the work of volunteers and sponsors.  So far, sponsors include Winnebago Industries Foundation, Clear Lake Bank & Trust, Manufacturers Bank and Trust, Superior Lumber (donated lumber), Yohn and Co. (delivery of crushed rock), Dr. Jerry Nelson and Christen Sherwood/Healing House, Mick Hartwell, and Ron Richardson.

You'll need to bring your own discs. The first hole is located by the north parking lot. If anyone has used discs they'd like to donate for OV use, they can be dropped off at our main reception desk, located in the Kinney Lindstrom Center on our Clear Lake campus.

We are happy to make this course available for public use. The following guidelines will help ensure safety and enjoyment for all.
OV policy does not permit alcoholic beverages or smoking on premises.
Keep motor vehicles on roadways.
Refrain from using profanity.
Treat others with respect.
Place litter in receptacles.