Our Vision
To inspire meaningful lives by connecting people with purpose.
---
Our Mission
The One Vision community supports individual choice by providing services that lead to greater purpose and independence.
---
Our Values
MINISTRY
We continue to honor the Christian principles on which our organization was founded, that all individuals are created in God's image and worthy of respect.
INDIVIDUALITY
Supported individuals are encouraged to make choices and set goals consistent with his or her needs, wants, and desires. We respect these choices and regard them as rights.
UNITY
Staff, families, and the broader community are unified in support of individual needs and choices.
DIGNITY
The One Vision community treats everyone with love, respect, and patience.
DIVERSITY
We encourage freedom of choice by offering diverse and flexible services. The needs and goals of individuals supported shape the services provided.
QUALITY
We provide professional services, working collaboratively with individuals and their families to support choices, needs, and goals.
ADVOCACY
We advocate for individuals we support, and encourage them to self-advocate to ensure needs, wants, and goals are met.
ACCOUNTABILITY
We are good stewards of the public trust to ensure long-term viability of One Vision.
SIMPLICITY
We value simplicity over excessive policy and bureaucracy.
---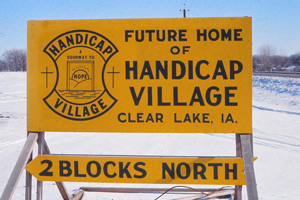 Explore One Vision's history with this timeline of important events.