Our Vision
To inspire meaningful lives by connecting people with purpose.
---
Our Mission
The One Vision community supports individual choice by providing services that lead to greater purpose and independence.
---
Our Values
ACCEPTANCE
We treat everyone with love, respect and patience.
We embrace our differences.
We honor the Christian principles on which our organization was founded, acknowledging that all individuals are created in God's image and worthy of respect and equality.
ADVOCACY
We support individuals in developing the skills necessary for effective self-advocacy.
We champion freedom of choice and regard these choices as rights.
We strive to enhance public awareness and unified support of the rights, needs, interests, and strengths of individuals. 
ACCOUNTABILITY
We are good stewards of the public trust.
We value simplicity over excessive policy and bureaucracy.
We are united in our quest to provide exceptional quality support and services which lead to greater purpose and independence.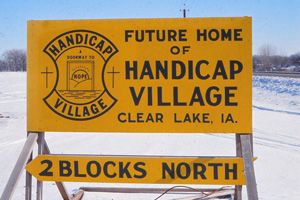 Explore One Vision's history with this timeline of important events.